Steps to Independence Walk/Run
September 30, 2017
Big Four Lawn at Waterfront Park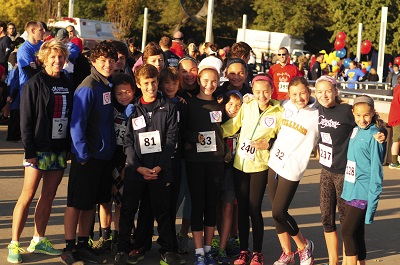 Click here to Register a team or individual!
The Down Syndrome of Louisville's "Steps to Independence" Walk/Fun Run will celebrate the lives of individuals with Down syndrome and their accomplishments.
The Lifelong Learning Centers located in Louisville and New Albany provide innovative and research-based education and development for all ages of individuals with Down syndrome. The Walk is DSL's largest annual fundraiser and continues to help us grow programs and services for our members in Kentucky and Southern Indiana. We need your help to ensure the continuation and expansion of these programs.
Activities include: 
Kids Fun Zone area where children can play games and win prizes.
5K Run
Spirit Sprint, which is a short, fun race for people with Down syndrome over the age of 10. After the Spirit Sprint, those individuals who wish to are invited onto the stage to display their medals
Family Walk of various distances through the Waterfront Park
Family Picnic Zone with great food
Live music by Michael Bush and The Allstars band
Can't attend the Walk? Your help is still vital! Form a team allowing friends and family the opportunity to honor your loved one through donations. You can even have a sign made to be placed along the Walk course for all attendees to see.
SCHEDULE OF EVENTS
7:00am - 5K Run/Walk Registration Opens
8:00am - Kids Fun Zone Opens
8:00am - 5K Run Begins
9:00am - Spirit Sprint 
9:30am  - Family Walk Begins
10:30am - Awards, Live Music, and fun activities! 
---
ParkingThe RED parking lot is for drop offs only
You may park in these lots: SILVER, TAN, the BROWN-FORMAN, ORANGE, and you can also park on the NORTH SIDE of River Road. 
STEPS TO FORM A TEAM 
Click here to begin the registration process.
Show your Team Spirit:

​​Create a poster for your team and deliver it to the DSL office no later than noon on September 25.
Is creating a poster not for you? Try this easy, affordable option. Have a weatherproof professional sign created for you. Samples have been provided below. Must be submitted by September 1. 
| | | |
| --- | --- | --- |
| | | Ellie's Envoys |
PRE-REGISTRATION: September 28 & 29 • 9:00am - 6:30pm 
Registration is held at the Louisville and Indiana DSL offices. *Friday the Indiana office will close at 4:30pm.  We strongly encourage individuals and teams to pre-register to avoid lines the day of the Walk/Run. Team Walk shirts may be picked up at this time.
MOVERS AND SHAKERS PLEDGE AWARDS
This year, DSL is rewarding you with the chance to win fabulous prizes based on the amount of donations your raise and also for the number of participants your have registered to walk/run. You've never had a better reason to help us raise money! 
Donation Awards: These incentive prizes are awarded to the team captains on money collected by October 19, 2016. You will receive and entry for money raised as a team or each individual donation received in that category.
$2,000+: Resort vacation certificate for 7-night stay in a choice of destinations from around the world from Schuler/Bauer Realty
$1,500-$1,999: Naming Rights to the DSL Driveway! 
$1,000-$1,499: $500 Gift Certificate to Century Entertainment 
$500-$999: Fitbit Alta Fitness Wristband
Participation Awards: Receive an entry into a drawing for the number of 
25+ participants: Chance to win 1 of 15 DSL baseball hats
10+ participants: Chance to win an Apple iPad
FUNDRAISING OPTIONS: Contact Whitney Hobbs, Development Manager, for more information on these programs.
Gift Matching Program

If your company offers Gift Matching programs, send your paperwork to us and we will complete the necessary information.